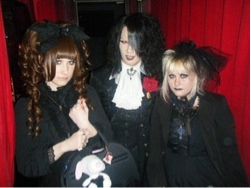 Hello everyone~
Did you have a good Halloween??
I know I'm a couple days late posting this, but I wanted to wait until I could share the photo above with everyone!!
Its from Vampire Rose's blog ↓↓↓
http://ameblo.jp/from-vampire-rose/entry-11066629305.html
For those who don't know, Vampire Rose is the Earl of the vampire cafe!
In fact, I've noticed Mana seems to go to the vampire cafe quite often lately himself (many of his photo shoots are inside the cafe).
I always seem to find myself ending up at this place on special occasions...to tell you the truth I've been going here for Christmas for the past two years, but this time Charlotte and I took up the opportunity to go on Halloween.
腐腐腐…
Anyway,
Tomorrow is the Moi dix Mois Darkness Theater live!!!
I'll be sure to update about it when I return home from the live, so I hope you'll look forward to it!(((o(*゚▽゚*)o)))
Sarah