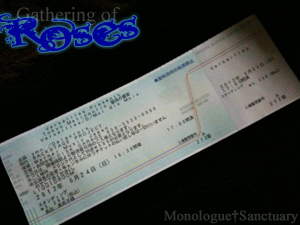 My ticket finally arrived today, so I will officially be able to participate in tomorrow's live!!(((o(*゚▽゚*)o)))
I'll definitely post about it tomorrow night when I get back from the concert; I get the feeling Moi dix Mois, D, and Versailles will probably do something really special together. I can't wait to see!!
I'm fully powered up for tomorrow!
By the way,
Recently I've been fully caught up reading this book,
The Dibbuk Box
.
I read a lot of horror books, and usually I'm extremely fascinated reading books on real life happenings to people, which is exactly what this book is.
It seems theres going to be a movie coming out in the near future portraying the events that really happened with this box (though the story of the movie doesn't seem to be the real story, but its based on the real dibbuk box).
Either way, the real story itself is quite scary so after researching, I decided I had to buy the book written by the box's current owner and everything he has been through with it.
I wont give it away, but this box seems to be haunted...and in real life terrible things constantly happen to whoever owns it at the time.
Its extremely interesting so I haven't been able to put it down.
If anyone is interested in the occult and paranormal/horror-related activities, I sincerely suggest you pick it up!
Sarah
I am so happy for you that you can attend the concert!!!! I look forward to reading your report!!!!!
Thanks for finally writing about >Monologue†Sanctuary <Loved it!